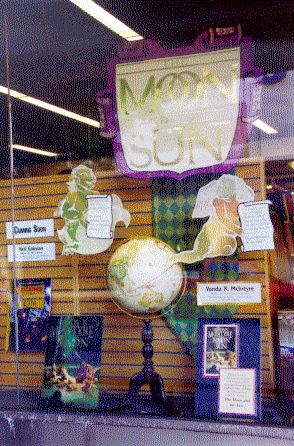 SF Manager Duane Wilkins keeps a wide range of books and periodicals in stock. Several times each year, the bookstore holds a mass sf signing with a dozen or more writers. Great fun!
The publication party for The Moon and the Sun included decorations, sparkling cider, fruit and cheese, and Dilettante Chocolate Truffles. Duane Wilkins, Judith Chandler (now at Third Place Books), and Jay Herrington put on quite a celebration! A terrific time was had by all.
You can order The Moon and the Sun from the University Book Store in Seattle. It will probably be signed. (If it isn't, write to me for a bookplate.)
They discount hardcover fiction, and offer a good deal on the shipping. Their toll-free number is 1-800-335-READ.
---

Jay Herrington died in a car accident. His friends miss him.