Award-winning SFF author Vonda N. McIntyre passed away on April 1, 2019.
"The world lost a force of nature, a brilliant, kind, generous, fiercely talented artist."
—Jeanne Gomoll
Vonda's books and short stories won Hugo & Nebula awards and her tie-ins and other novels are beloved by generations. Vonda founded Clarion West, a writing workshop for speculative fiction writers, and was a founding member of the Book View Cafe, an author-owned publishing cooperative. A quiet, tireless feminist, Vonda nurtured hundreds of writers. Through her writing, teaching, and works, Vonda both shaped and nurtured the SF/F community.
Since bringing Clarion West to Seattle in 1971, Vonda leaves behind generations of Clarion West graduates who benefited from her kindness, intelligence, grace, and wry sense of humor.
---
Media & Rights Inquiries
---
For general inquiries about Vonda N. McIntyre and her work, please contact the committee at contractmanager@clarionwest.org.
For inquiries about The Curve of the World and Vonda's other stories, please contact Jennifer Goloboy with the Donald Maas Literary Agency:
For rights inquires:
rights@maassagency.com
For all other matters:
info@maassagency.com
Mailing address:
Donald Maass Literary Agency
1000 Dean Street, Suite 252
Brooklyn, NY 11238
Phone:
212-727-8383
---
Publication Updates
---
You can currently find many of Vonda's books to purchase at Open Road Media as ebooks. The Moon and The Sun is available under the film title, The King's Daughter, and both The Moon and The Sun and Dreamsnake are available in paperback with their beautiful new cover designs.
A beautiful reprint of Vonda's first novel, The Exile Waiting, was recently reprinted by Handheld Press and is available for purchase through the Bookshop: https://bookshop.org/books/the-exile-waiting-9781912766093/9781912766093.
Hydra House released The Pocket Workshop, edited by Tod McCoy and M. Huw Evans with an essay by Vonda titled, "Information & Other Opinionated Comments" by Vonda N. McIntyre.
The Book View Cafe has released two anthology reprints that include Vonda's short stories:
Dragon Lords and Warrior Women: Resummoned, edited by Shannon Page and Phyllis Irene with two of Vonda's short stories, "Night Harvest Cuvée Rouge" and "The Natural History and Extinction of the People of the Sea" with illustrations by Ursula K. Le Guin
Spawn of Rocket Boy and the Geek Girls, edited by Phyllis Irene Radford and Shannon Page with Vonda's store, "Steelcollar Worker."
You can purchase a copy of Remembering Vonda, a tribute from friends, colleagues, students, and fans at Lulu Press.
---
Other News & Announcements
---
Resources for Writers
---
Math Crafts
Vonda famously made beaded and crochet Sea Creatures, including Jellyfish, anemones, nudibranchs, and marine flatworms. She contributed to the Smithsonian's Exhibit of TheIFF's Hyperbolic Crochet Coral Reef and participated in the Crochet Coral Reef.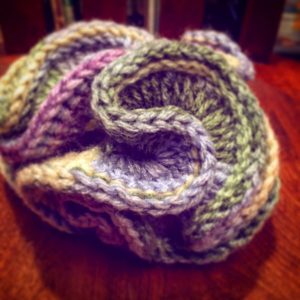 Many Clarion West graduates have received her yarn "sea creatures" or "coral brains," which she crocheted every year for the class as stress relievers.
---
More on the Website
---
Contribute to Scholarships and other funds in memory of Vonda N. McIntyre:
---